Social Security Disability Can
Provide Relief from Financial Burdens
If you develop a medical condition which prevents you from working, you may qualify for
 

social security disability benefits. However, the application process can be

 

complicatedand

 

many applicants are initially denied benefits. 
An attorney can walk you through the process…
Social Security Disability Lawyer
Understanding Disability Benefits From Social Security
A serious injury or medical condition can prevent you from working and earning the money you need to support yourself.
If you have a
 

total disability, Social Security provides disability benefits which can take the pressure off you and your loved ones. 
Unfortunately, a large percentage of claims are denied.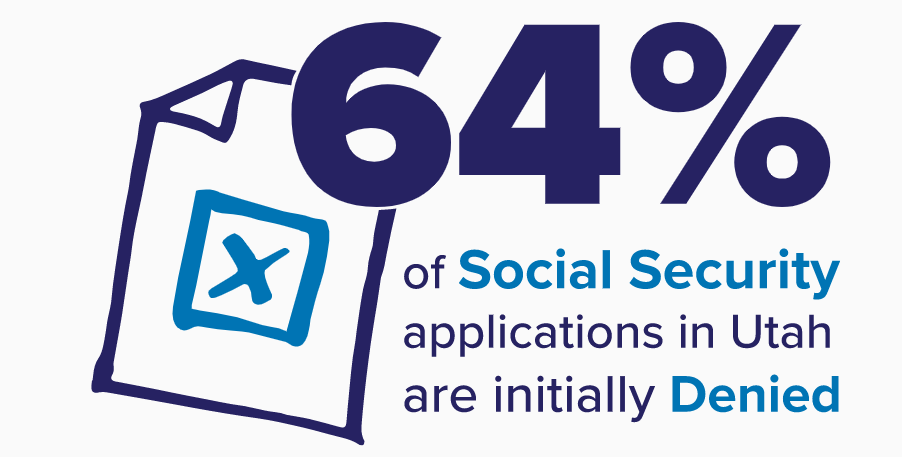 You may ask: How do I get the benefits I need?
A Social Security Disability ATTORNEY CAN HELP
From left to right: Brandon Stone, Bruce Franson, Brett Bolton, Mark Flickinger, Kevin Sutterfield, Zeb Weeks
Knowing your rights and understanding the system can make applying for disability easier. A
 

Social Security disability lawyer

 

can help you through the process to

 

improve your chances of approval.
At
 

Flickinger Sutterfield & Boulton, we are

 

dedicated to helping our clients throughout Utah

 

receive the compensation they need to rebuild their lives.
Whatever stage you are in the Social Security process, whether you are filling out your initial application or planning a second appeal,
 

we can help.
Initial case evaluations at our office are
 

free of charge, so you can learn more about how we can help without a commitment.
So How Do You Know if You Qualify?
Social Security has
 

very strict requirements

 

for disability benefits and only offers these benefits to people who have a total disability, rather than a partial or short-term disability.
To qualify, you must:
Have had a job which paid into Social Security

Have worked a minimum amount within the last 10 years

Meet their basic requirements for a disability
In general, the Social Security Administration (SSA) will ask
 

five basic questions

 

to determine if you have a disability which qualifies for benefits.
THESE FIVE QUESTIONS DETERMINE YOUR ELIGIBILITY
Are You Working?
Employees must meet a set limit of average earningsto be considered disabled. In 2018, if your earnings average more than $1,180 per month, you are generally do not qualify as disabled.
Is Your Condition Severe?
A severe condition is defined as one which 
limits your ability to do basic
 lifting, standing, sitting, walking, or remembering, and has lasted or is expected to last at least one year.
Is Your Condition on the SSA List?
The SSA maintains 
a list of medical conditions
 that they consider severe enough to 
prevent an individual from earning a sufficient wage
. If your condition appears on this list, you are considered disabled by Social Security.
Can You Do Your Work?
Per the SSA requirements, a disability 
prevents you from performing
 the work you did previously.
Can You Do Any Other Type of Work?
To qualify for disability benefits, your condition must also 
inhibit you from all other types of work
, based on your age, education, past experience, and transferable skills.
AND SPECIAL CONSIDERATIONS
The SSA recognizes several
 

special situations

 

which require different criteria. If you

 

are blind, have low vision, or are a veteran, your case may involve a separate process.
It is important to discuss your options fully with
 

an attorney

 

so you

 

know your rights.
You may ask:
 

How much will I actually get?
ON YOUR LIFETIME AVERAGE EARNINGS
Your disability benefits will depend on
 

how much money you earned on average

 

during the years you paid into Social Security. The SSA has

 

a range of tools to help you

 

estimate your benefits.
Other government benefits, such as workers' compensation, public disability benefits, or your pension, may affect your Social Security payments.
Our team at
 

Flickinger Sutterfield & Boulton

 

can help you assess

 

expected disability benefit payments.
SOCIAL SECURITY ALSO PROVIDES:
Medicare
After two years of receiving disability benefits, you are automatically enrolled in Medicare. The SSA will enroll you in both hospital and medical insurance.
Family Benefits
Certain members of your family may also qualify for benefits on your record, including your spouse and children. Each family member may be eligible to receive 
up to 50 percent of your disability benefit amount
.
Work Incentives
If you go back to work while on disability, you may qualify to keep your cash benefits and Medicare for a certain amount of time. These incentives can help you get back to work.
You may be wondering what the application process looks like…
THE APPLICATION PROCESS IS COMPLEX BUT WE CAN HELP YOU GET RESULTS
"Small team, huge impact! They're only just now starting to expand because of their success, but they give you & your case the utmost attention and are relentless in getting you the best results. There were times I felt they "did enough", but they continued to fight and then actually helped double the outcome when I didn't think it was possible. I couldn't recommend them anymore."
-Jared A.
From left to right: Zeb Weeks, Mark Flickinger, Brett Boulton, 
Kevin Sutterfield, Bruce Franson
When an injury, accident, or medical condition prevents you or a loved from working, you need someone who can help you
 

return to your life.
Collecting Social Security disability benefits can often
 

make a huge difference

 

for individuals struggling with life-changing medical conditions.
Our team at
 

Flickinger Sutterfield & Boulton

 

has spent

 

over 25 years helping individuals in Utah

 

during difficult points of their lives.
There are
 

no upfront fees for hiring

 

one of our attorneys and we can assist you with

 

any stage of your application process.
If you are dealing with Social Security disability issues,
reach out to our firm online or call us toll-free at (800) 898-4878.
Locations
We have 4 locations in Utah
*Disclaimer: the information provided by this website is for informational purposes only and should not be considered legal advice or a substitute for competent legal counsel.
Sitemap  |  Privacy Policy  |  Login